(This is a crosspost from WabiSabi Sound's blog).
I didn't think Witness was going to be an easy project by any stretch, but I certainly didn't expect it to be one of our biggest creative challenges. I've worked on nearly 80 projects spanning feature film, games, ads and other sorts, and my job as sound designer had always been to broaden the experience in every possible way. The Witness inverts this notion.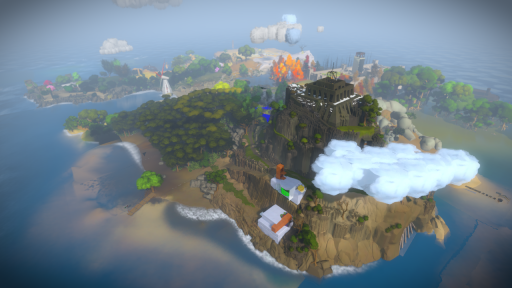 A tree of any significance in a film or game will have a bird perched on its branches chirping away. Cicadas will buzz. Wind will rustle its leaves. Branches will creak, stress and morph right before your ears. All this happening without you actually seeing it…or really expecting to, interestingly.
In The Witness every element has purpose. A key game mechanic, in fact, relies on the player's perception as they explore. So, we're not just talking aesthetics…noise (literally stated) ruins the game's playability. Noticing, as a buddhist would call it, is key to discovering solutions and even finding the puzzles themselves. Nothing in the Witness is superfluous.
All this said, the island is a tangible living breathing organic place following roughly the same laws of our universe. The trees exist. They have mass and energy. My eyes receive bands of light reflecting off them, and in fact they are quite beautiful. So then what do my ears hear? Silence is not only a bad artistic choice, it's untrue.
At this point, you've probably asked, "What about music?" It's no spoiler that there isn't a gigantic speaker system in the sky fed by a mic'd orchestra. So….
None the less, the island is a fascinating place, with lots to see, hear and do. Geoff and I 'the audio team' have had an interesting time exploring 1000′s of layers of sonic subtly, and finding ways to engage players to listen ever deeper. This is a unique project for game sound, and we though it would be of interest to share our challenges and discoveries since starting with Jon in 2010 (and of course the challenges yet to meet).