Chris Hecker, the developer of SpyParty, and Andy Schatz, the developer of Monaco, have been writing about their preparations for a joint exhibit at PAX.  They were keeping a secret, though: there was a secret 3rd partner in the exhibit, and that was The Witness.
For all three days of PAX 2010, The Witness was publicly playable by anyone who came by the booth.  However, it was unmarked and unattended, so it was easy to miss (as many people did; but then, plenty of people played it, too).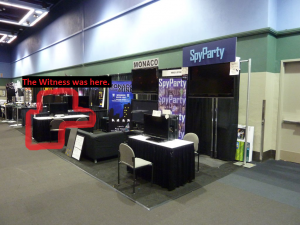 Here's a close-up, with the opening scene of the game, as it silently waits for someone to sit down and play:
I had several reasons for wanting to show the game this way.  Firstly: At a show full of companies trying to capture your attention and sell you things, I wanted to do something that is subtle, and a surprise -- if you notice it, and decide to investigate, you find something unexpected.
Also, I wanted people to be able to play the game for as long as they want, not feeling pressured to stop playing because of a huge line of antsy people waiting behind them.
Before PAX, only two people had ever played the game; those people were game developers, and the versions they played were very rudimentary.  This was the first time the game had ever been played by general players, and I wanted to see how people would react to it, as honestly as possible.  I didn't want to give them any reason to think that this was a good game, or was by any designer they might have heard of.  So I just left the game running, and would occasionally peek at it from afar to see who was playing and how they were doing.
PAX is a huge show, with tons of stuff to see everywhere; if the game could hold peoples' attention under those conditions, purely on its own merits rather than by hype or pedigree, then I would know that it was really working.
Happily, the game worked very well -- despite the fact that the visuals are still in an early prototype stage.  People tended to play for a long time, and they liked what they played.  Here's a picture from Sunday; these guys played for a long time, perhaps an hour and a half: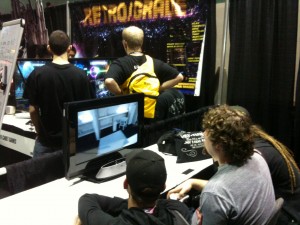 Some game designers did recognize the game; here's Dylan Fitterer (of AudioSurf) playing: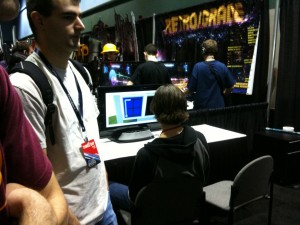 Stephen Totilo of Kotaku recognized the game early, on Friday, and found me camping out on the other side of the booth.  Thankfully, though, he didn't spill the beans.
I am very happy with how this playtest session went.  I am glad I was able to bring a game directly to players, as a surprise.
The common wisdom among game designers is that the first time you put your game in the hands of players, it totally falls apart, and nothing works the way you expected.  Thankfully, that didn't happen here.  The game does work as expected, despite being kind of crazy and experimental, and people enjoy playing it.
All that's left now is just to do all the hard work required to finish the game!
Update: Stephen Totilo has posted his impressions, along with a gameplay video, at Kotaku.