This month was time for the annual Game Developers Conference in San Francisco [this has been its official name for a while now: the completely ungrammatical "Game Developers Conference". Whatever.] We used this opportunity to have game designer friends come and playtest The Witness. We did somewhere between 40 and 50 hours of playtesting that week, and it was all very useful. Thanks to everyone who came by and played!
As a result of these sessions it immediately became clear how to redesign some of the areas to improve pacing. So I started radically restructuring three of the major areas, as well as rearranging the relative positions of areas on the map. That process isn't done yet, but it is starting to converge (just one more area left to redesign). I am very happy with the two areas already redesigned; they are obviously far better than the original versions. It feels very rewarding when you feel good about a game already, and then do something to improve it so much.
Also, I've shrunk the island again. Here's what it looks like now: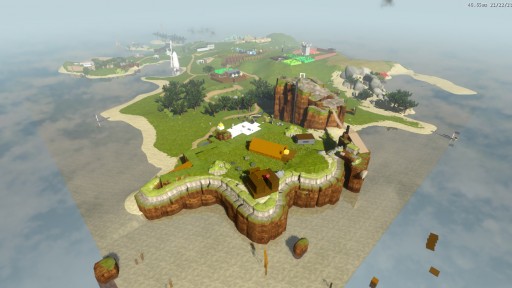 The current puzzle count is 275.
Also, we are hiring.