Here's how the island looks today: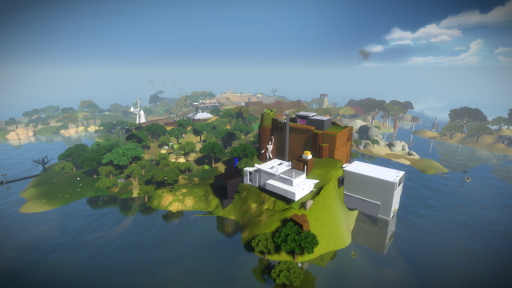 The current puzzle count is 440.
As expected in the previous update, over the past week or so I went back and worked on the endgame again. I built an original version of the endgame last summer; I had one friend playtest it, and it worked out pretty well, though I felt it wasn't quite epic enough. I didn't know what more to do with it at the time, so I just let it sit, and went to thinking about other parts of the game.
Lately I had more ideas for the endgame, so I went into personal crunch mode and rebuilt into something more epic. This was one of the most productive periods of my working life (maybe the most productive) and I think this area, all taken together, may be the most interesting thing I have ever designed. However, it may be a little too difficult for the player, at the moment! Today I playtested this endgame and one other area of the game, with a game designer friend of mine, and it took nine and a half hours to play through these two areas (6 hours for the endgame, 3.5 hours for the other area). I think this is a little long, so I am going to be tuning these areas and cleaning them up a little bit. This weekend hopefully I can get in some playtest time with Jeff and Casey of Jeff and Casey Time, so if that happens we will see how it goes.
(It's interesting; I haven't done a playtest of The Witness for a while, but I was still thinking of it as a 10-15 hour game, and that's what I tell people when they ask. But if these two areas by themselves, even after being cleaned up, are 6-7 hours of playtime, that means the whole game is ... ... much longer. Sometime in a month or two, I'll do some playtests with people who have never seen the game before, and we'll see how long it really is.)
Meanwhile, on the art side, we've been working on the style of the game; expect a future blog post as we come to conclusions on that.
Tech-wise, Andy has been working on performance stuff. First he made raycasting much faster; til now the game had been relatively lazy about spatial organization. Andy implemented a quadtree for finding entities in the world and enabled k-d tree generation and serialization for casting rays against individual meshes. (We had k-d tree code already as part of a library but weren't using it.) Salvador is working on in-game animation playback, as well as exporting; until now we have been making do without animations, but once this is in the game it will help us with a number of issues.