Here's how the island is looking right now: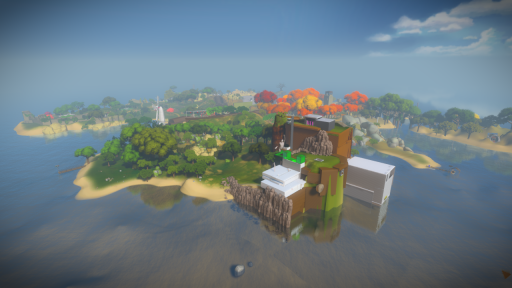 But today we are going to have the first in a series of meetings wherein we think pretty hard about the topography of the island and what the flow of natural curious investigation will tend to be from various spots. Expect the island to look pretty different in the next update! (Or maybe it will turn out that things are mostly fine...)
Lately, I have been working on some of the more sophisticated puzzles in the game. These are things that were at least sort-of done already, but I wanted to revise the designs to improve them -- to ensure that the puzzles are as interesting as possible and built as closely as possible around the core themes of the areas that contain them. I am happy with the way these are coming along so far, but there is definitely still some work to do here.
The art team has been working further to nail down the style of the game, now focusing on cliffs and plants and other natural things, as well as control panels and other bits of machinery. We're also taking a few buildings that the architects have finished designing, and starting to build out the geometry as one really would for a video game. (The architects give us buildings modeled in SketchUp, and they tend to come into the game a bit messy, but also, not modeled the way an experienced video game modeler would do it).
On the programming side, we've got lots done lately. Andy has added a software occlusion culling system, which should help with frame rates in the game. He's also been playing with culling for water reflections. Salvador got animations working in the exporter and in the game, so now we can play animations on entities, which is very useful. (We worked on the game for years and built something fully playable without this ability!) I have been going back and doing the gameplay work for animated entities, as some things have to change in the gameplay logic. In all it is a very nice improvement. Salvador is now working on asset streaming, which will help the game start up faster and run better (and help it run at all on lower-end platforms like the iPad). Ignacio's been doing a whole lot of fixes to various systems and hammering away at the todo list. One of these things has been better control for the tone mapping process. We now get a graph of tone mapping curve: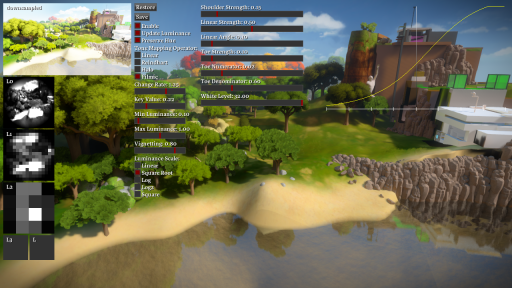 And we also get the ability to export screenshots into Photoshop that have a color key on them; then the colors can be tweaked in Photoshop and re-imported into the game to alter tone mapper settings. This is in many cases more convenient than playing with those sliders.