Here's how the island looks now: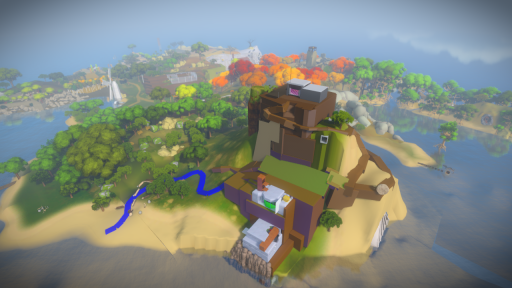 The current puzzle count is 415 (I think we have been over-counting a little recently; this is a more-accurate count).
In case you missed it, I did a live Q&A with Chris Hecker of Spy Party today on Kotaku.
In terms of world-building, lately Luis, Shannon, Eric and Orsi been doing a few things: (1) revisiting the most complicated areas in the game and making them playable with something resembling shipping art assets [until now they were playable only with placeholder pieces]; (2) starting to figure out what the game will look like, outdoor-wise; (3) stuff I can't spoil in a post like this.
On the tech side Ignacio is working on optimizing the game, as often. A big part of this has been working on the mesh LOD system, but he's also looking at performance issues related to specific subsystems like grass rendering. Salvador has done a bunch of work on asset streaming, which seems to be pretty solid so far. Andy made a number of improvements to the collision system and audio system, and has now started work on an OpenGL port of the rendering, which, when done, is a big foothold toward portability to other platforms besides Windows.
The audio guys, Andrew and Geoff, have done some really nice stuff in terms of sound. The audio aesthetic for the game is starting to come together. We have lots of rad footsteps and are doing some very interesting things in terms of environment sounds.
This is not a comprehensive account of everything everyone's been doing; it is just what leaps to mind!