It's time for another island update: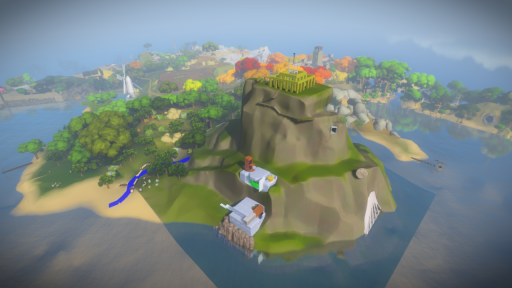 As you'll notice, we are starting to work on that big mountain that is closest to the camera. (Finally!) This is still an early concept; it will change a lot.
Ignacio recently implemented a clean way to print an overhead map of the island, in flat colors, which is probably useful for marking things up: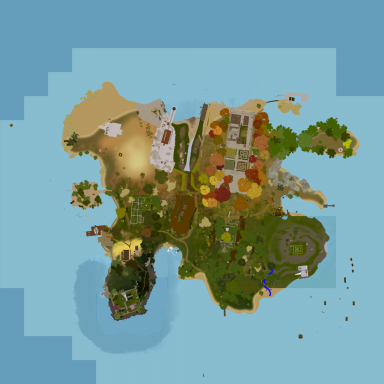 On the modeling side, Eric has been refining an area that's far from the camera in these shots (you'll see some screenshots of the interior soon). Luis has been working on the style of our outdoor scenes; we have interesting problems that involve maintaining a visual style that is good for gameplay while also creating images that are most striking. Orsi has been working on refinements to a few particular areas, particularly, adding some deeper puzzle complexity to the area with the tall trees (off to the right in the screenshot image).
Until recently I had been bothered by some unanswered questions regarding the endgame. There were things I wanted to do that didn't fit together and that felt clumsy. But thankfully, after taking a relaxing weekend where I barely worked on the game at all, on Monday solutions to most of these problems just popped into my head. So that's cool.
There are still some questions about the gameplay but I think the biggest ones are now nailed down. Over the next couple of weeks I will be implementing the remaining parts of this endgame.
Tech-wise, Andy is pretty far along with the OpenGL renderer, which will help us hit other platforms, and Salvador has tied up the basics of asset streaming and is doing some rendering optimization stuff. Ignacio is refining the LOD system in addition to many miscellaneous tasks.