Last Wednesday night, just before Thanksgiving, we shipped our first extremely closed beta over Steam to a few limited testers.
Today we shipped an update, still to the same limited group. We have some initial tech issues to work out before we go wider (game packaging issues, graphics card incompatibilities, and the like).
Here's a desktop screenshot from one of the testers, with someone chiding him about what he's playing: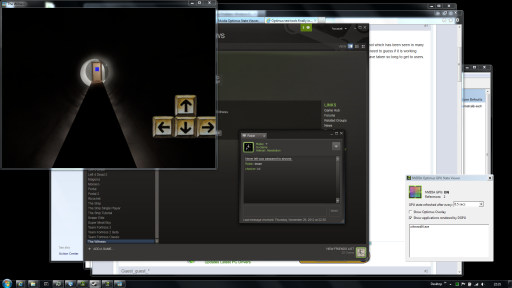 (The Witness window in this shot is artificially resized to make room on the desktop; by default we launch at 1280x720.)
I know that the impulse is to think "oh wow they are almost done!" Don't think that, it's not the case. We still have a gigantic amount of work to do and it'll be a while before the game is done.
Random Trivia Q&A
Q: How many footstep sound effects are in The Witness?
A: 1,119 so far. They sound really good! We will probably be in the Guinness Book of World Records as the game with the most footstep sounds...