This week we've been having discussions about how it's almost time to move into full-on Production Mode and start cranking out final-ish 3D models and textures ... following schedules, and all kinds of organized stuff like that.
Up until now we have not been in that kind of work mode, because we were figuring out the game, and in that kind of mode, I find schedules to be anti-quality. But once you have everything figured out and need to produce a volume of work, schedules are pro-quality, since they help you gauge how well you are doing, whether you need a reality check on the rate or quality of things you can produce, etc.
Luis has made this handy map that we are using to partition up modeling tasks, which I have then edited to remove spoilers: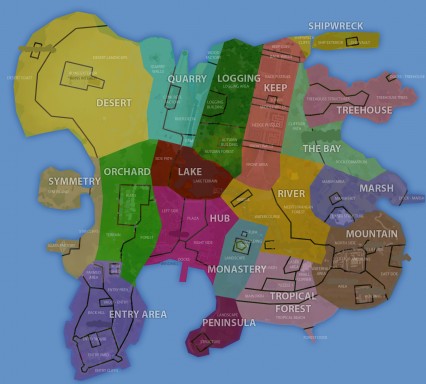 I like looking at this map because it reminds me how many distinct areas there are and how they relate to each other.
Today I was showing the game to someone who had not seen it before, and that's always interesting because it helps me see the game through fresh eyes a little. It really feels unlike any other game in the way it is an Open World but also a Small World, where you can be in one location and see several neighboring locations, and that helps keep you oriented, but it also helps you reflect on what you have done and orient on where you are in the course of things you are planning to do.
We still have a ton of work to do, though, and I was reminded of this as well. Not just in detailing all these areas, but in filling out the story, crafting details that further help the areas relate to each other, etc.
It is going to be an interesting time!