The PS4 launched last week and, though I still barely believe my luck, I got the chance to accompany Jon to the launch event in New York! As it turned out, I was a bit too shy to help him out too much with the questions, but it was still an invaluable experience for someone who has never before been to anything like this event.
The interviews happened somewhat randomly. A whole floor of the Standard Hotel was dedicated to indie games that would appear on the PS4, and the press wandered around, peeking into rooms and sitting down to play the games when they were available. I snapped a picture of the room where The Witness was shown: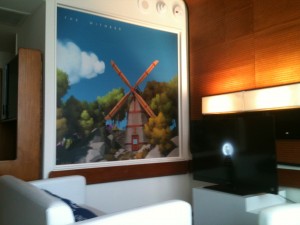 We spent two days showing the game to many journalists. They usually played from the beginning for a while, then Jon took them on a guided tour of an area where the puzzles were starting to get a little crazy, explaining the thought process behind them. It was so great to finally see the game being played! Everyone seemed to love it, too!
During the nights, we were invited to a few events. Sony took the indie developers out for dinner, where I met Shuhei Yoshida, and chatted with the guys from Secret Ponchos about goldsmithing and tattoos. It was a good opportunity to get to know the other developers, and a nice gesture by Sony. The next night there was also a bigger, louder party in the penthouse of a tall building, to which local developers were invited as well. It was so full we could barely move, so I just stood around trying to piece together conversation through the incessant club music.
By Wednesday we were done with the interviews and I had some time to explore New York and feel totally lazy while Jon got some programming and design done in a cafe. I ended up spending most of the day in the MoMA, where there just happened to be a special Magritte exhibition going. Love Magritte! Oh, and I also got to see Sleep No More, which was a really amazing experience!
The most unbelievable part of the trip for me, however, was seeing our artwork displayed on the side of the 17 story hotel. It was difficult to decipher right up close, since it was displayed on huge sheets of LED lights, but it was wonderful to be right there to see it happen! We took a few pictures but they turned out very blurry, so here are some taken by Kevin Geisler:
Only Alex's windmill and my autumn forest and orchard made it onto the building, but I thought I would include all the original images we submitted, since we put some effort into getting them together. These are pretty high res, in case you guys want to print your own posters or crop them down and make some wallpapers: