Today I was deleting an old area of the island, which had about 25 puzzles in it that I wasn't happy with. I took to wondering how many puzzles would be left on the island after I deleted those, so I added a console command to count puzzles: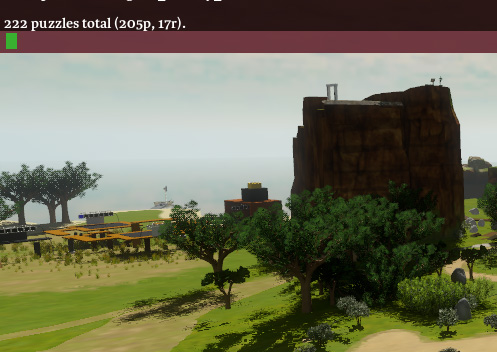 So, there are 222 puzzles left in the game (I just deleted about 10% of them).
Many more puzzles are going to be added; I would guess that by the time the game is done, there will be over 400. We'll see; I think this will be a fun statistic to watch, along with those screenshots of the island.
In comparison, Braid has about 76 puzzles in it. So that tells you something about the relative sizes of the games. That said, the puzzles in The Witness are often intended to be bite-sized and quick, so it's not really a direct comparison. (On the other hand, some of the puzzles are most definitely not bite-sized and quick!)