In a previous post I mentioned that we had done a bunch of playtesting at the GDC. As a result of that playtesting, I ended up heavily restructuring some areas of the game world. On top of that, there were a few areas that had been incomplete at that time, and I felt it was important to get those finished. So after the GDC I entered a period of very hard work to get all this stuff done, and it is now done! Here is how the island is looking now: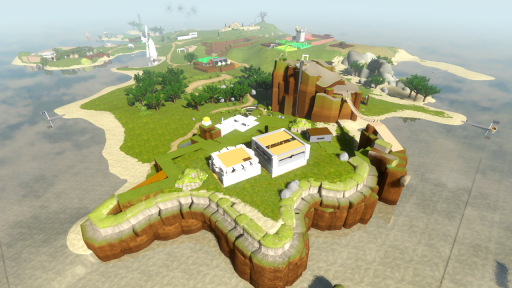 The puzzle count is now 285.
This means I am getting closer to my Gameplay Complete milestone. The bulk of the game design is now more-or-less there, in the sense that you can go and solve all the puzzles and they are basically the body of puzzles that will be there for the final game (though in the final game they will be refined, and more will be added -- but if we had to ship with only the puzzles that are in there now, we could do that, and it would be a good game). However, there's no endgame or winning condition, so I will be working on this next.
I think the endgame is going to be a bunch of work -- the original idea was ambitious, and I need to do a bunch of redesign on it since the game as a whole has evolved since the time the endgame was originally conceived. We'll see how it goes.
The visuals are still placeholder. In a couple of weeks we have some architects coming in to start designing buildings and terrain; at that time our production pipeline will change and we'll be moving a little closer to "the real visuals".