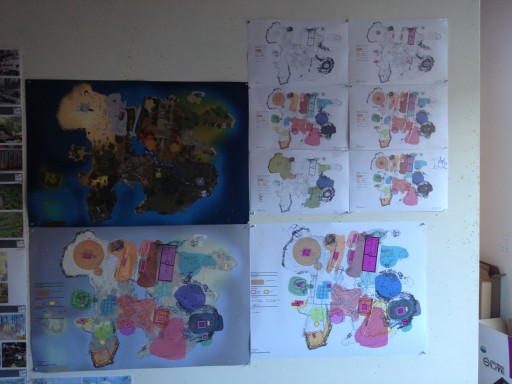 One of my primary design goals, all through development, has been to keep the island spatially small, so that there isn't a lot of wandering through empty or pointless spaces. The idea is to take the best parts of an open-world game, involving choice, exploration and discovery, but compressing these into a maximally dense experience.
That has been going well, but there's an interesting phenomenon where, as we add more detail to the world, it starts to feel a lot bigger. When something is a mostly-featureless plain it is easy to feel like it's small, but once you are passing tiny rocks and plants that are set up very carefully, your brain has more scale reference. So there have been a couple of times during development where we stopped and said "Hey wait a minute, things are just too big."
Last week that happened again; we were looking at two different parts of the island on the same day, and both of them seemed much bigger than we needed. So, we decided to go back to the overall island plan and try to compress it further. We had a discussion about this on Thursday, then the architects talked it over; you see the result of those discussions in the image above. These maps are a handy guide to helping us figure out what we can cut and how we can scoot existing areas around to pack them a little better, and to better-define the areas between them.
This is a little painful, since we almost had the island back into playable shape, and this knocks it back out of playable shape for a little longer. But my hope is that we can just make a mess and then clean it up very quickly.
In other news, there had been a puzzle that I needed to design for two years -- in the sense that I knew I needed to build the puzzle in order for a certain area to be complete, and I knew what that puzzle vaguely had to be about, but didn't have any good ideas on how to build it. Last week I had a breakthrough on that and built it very quickly; it's now one of the best puzzles in the game. So things are coming along well!