Once again, we have been mostly working on things you can't see from this angle. The most-visible changes are probably the peninsula on the left in the foreground, which has undergone extensive work lately: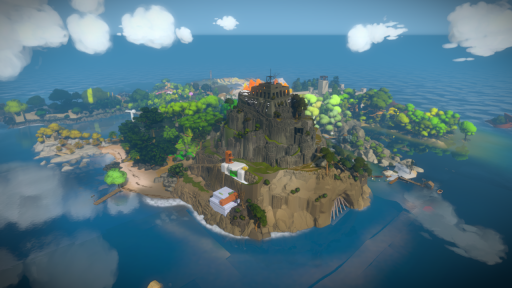 It's been revamped by Alex, who is new on the team, helping us with the huge amount of modeling we still need to do to finish the game. Hopefully we'll get a bio paragraph for him soon on the About page.
The current puzzle count is 590.
The current footstep count is 1756.
P.S.: Last week we showed The Witness at E3. This was the first time we have ever shown the game running on the PlayStation 4. We got some nice write-ups about the game; here are just a few:
Steven Hansen from Destructoid really enjoyed the game!
Tara Long from Revision 3 really enjoyed the game! (She also gave us an award at the show!)
Darren Franich from Entertainment Weekly put us at #1 on the list of most exciting games of E3.
Matt Miller of Game Informer seemed to really like the game, and put together a list of defining features.
Chris Leggett of Gameplanet says The Witness was his personal favorite game of E3. (The folks at Gameplanet who chose the photos to go on the article used some unfortuante, super-old development photos though!)
Tom McShea and Shaun McInnis of Gamespot gave a video summary from the show, seeming to like the game a lot as well!