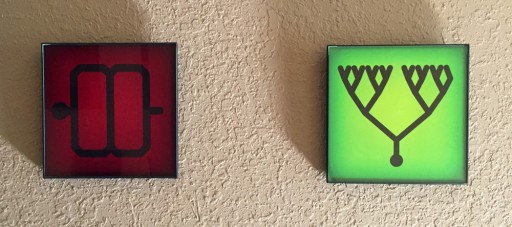 Hey there! Lately I've been seeing a lot of requests from people who want to buy framed panels, like the ones we have hanging in our office. We talked a little bit about how we might sell these with Jon, but decided it would be best to just release the images we used to print ours for free, and that way peeps can print their own however they like.
An important suggestion would be to print these on semi-glossy or glossy paper, as the colors tend to turn out completely faded on regular paper. Back when we were printing these, Luis tweaked the colors for some so they look better printed, so they might not be completely accurate on a monitor, but should look nice on paper.
Also, we just went to a nearby art store and picked out a bunch of square frames. We got mostly 8x8 inch and a couple of 12x12 inch ones. Most of the frames were just minimal black plastic, and only cost about $6, if I remember correctly, but we got nicer ones for a couple of the 12x12 ones, like the boat panel. You could probably even make Witness monitor style frames for them if you are crazy enough, that would be fun to see!
Here are the files we used: