In May, we wrote about a bunch of ideas for posters for The Witness. We couldn't say so at the time, but we were prompted to do this by the inclusion of such a poster in a PlayStation 4 promotional video. Of all the possibilities we ran through, here's the one we liked the most: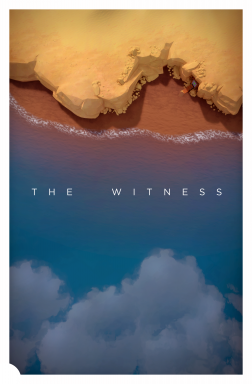 If you watch carefully and don't blink, and look past all the balloons that are blocking it, you can see the poster (in different proportions) starting around 0:57 in this commercial: http://www.youtube.com/watch?v=QOdW1OuZ1U0
Hey, it is what it is.
Because we picked this one as the final, we have it in a much higher resolution than the other options. If you like it, feel free to use it as a desktop image, or whatever!